How to Fix Google Chrome Slow Loading
Google Chrome is working slowly. When you open a site, "we are waiting forxxxx". "We are connecting to xxxx" will take time to read about. Both versionsof Google Chrome is slow 4-5 system. Much more faster in Firefox. Wereunable to resolve on much longer to run faster in the next step.
PC environment is as follows.
OS Microsoft Windows 7 Professional Version 6.1.7600 Build 7600
Processor Intel (R) Core (TM) 2 CPU 6600 @ 2.40GHz
Memory 2.00 GB
GoogleChrome 5.0.342.9
Apparently, the problem was fixed in the next step.
Setting Google Chrome (wrench icon) - "Options". Google Chrome Options dialog box appears.


"Advanced" tab, column "Network proxy settings" button. The Internet Properties dialog box appears. ※ Control Panel, which may seem like an open Internet Options in IE.


Local Area Network (LAN) Settings "Configuring LAN" button. Local area network (LAN) Settings dialog box appears, the "Automatically Detect Settings" uncheck the check box.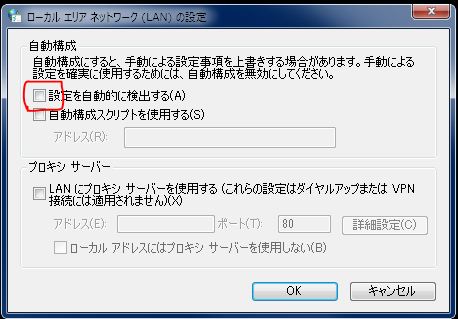 Probably, Google Chrome will look at network connection status, like that optimize the processing speed and resolution, including DNS. Perhaps thiscomes even backfire. This article is helpful.